GRAFFITI
May 24
May 23
May 22
Viriginia Law creating misconception about Graffiti
When I was researching the graffiti laws in Viriginia I came across a website dedicated to educating the public about the "rules" in Virginia, in particular targeting teenagers. This webpage was targeted towards gangs and gang activity and it clearly states that "Tagging is graffiti placed on property, often by gangs, to mark a territory. When there is a great deal of graffiti in an area, it is a strong indicator of gang-related activity."
I believe that this is a false statement trying to scare people into believing a stereotype. Yes, gangs do use graffiti as a way to mark their territory or communicate, but they are not the only ones using tagging. People use tagging as a way to express themselves and something to do for fun. Even though it is illegal, it is not as great of a threat as this website makes it seem to be.
http://www.virginiarules.com/virginia-rules/gangs
Panda Statues!!!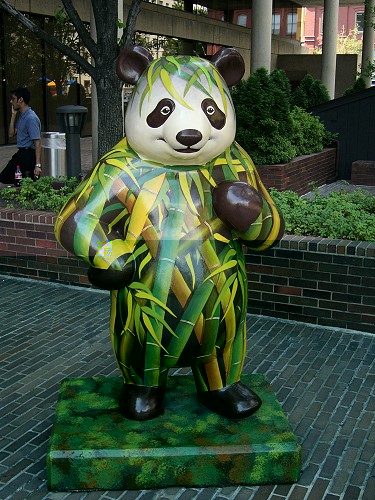 Around the United States, cities began a public art initiative. One of these projects was in 2004 when DC began creating panda statues and placing them throughout Washington DC as public art. These art pieces were each customized by an artist andthen auctioned off.
I know that this project was a long time ago, but I remember hunting for these panda statues when I was little and being so excited when I found a new one! I loved this project and I hope that DC will do another one soon. Sometimes if you look hard enough, you can still find a panda in a public place where a company bought one and put it on display!
If you want to check out more of these awesome statues use this link http://joeorgren.com/dc/pandas.htm
May 17
This is a mural on the outside of Nando Peri Peri in downtown Bethesda, MD
photo cred: http://29.media.tumblr.com/tumblr_m14b6dCdyr1qfu3sxo1_500.jpg
May 14
Graffiti laws in Maryland
Writing graffiti is considered a misdeamnor in Maryland. A person can both be fined for it or sent to jail. If the value of the property is less than $500 then the writer may be fined $500 or sent to jail for 60 days, or both. If the property value is greater than $500, the fine can be $2500 and up to 3 years in jail. Repeat offenders will have to pay a greater fine and may have to do comunity service.
Personally I think that the jail time is crazy. It takes up jail space for people who actually deserve to be in jail. I believe that if a person really does significant damage to property they should just have to pay for the damage, or do community service to help clear the area.
May 13
Here is one of my favorite parts of the mural right off of the metro near Catholic University. There is a whole wall behind a shopping center with a ton of tags and this mural.
May 12
Hey!
Hey guys! I created this Tumblr to showcase the graffiti in the Dc, Maryland, and Virginia area, as well as educate people about the laws surrounding graffiti (yes it is for a school project) I hope that you guys can learn something from this!!!